Many People in Cork are familiar with the village of Killeagh. The Thatch pub in Killeagh has been a landmark for many years, especially for those heading on to the once thriving town of Youghal for work or to spend their summer holidays near its sandy beaches.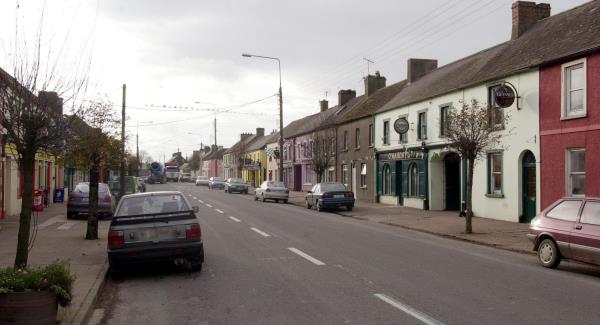 Main Street Killeagh which is to be transformed
Recently I visited the area to find out first hand what the Community Council was doing and what else was happening in this historical area. I had the pleasure of sitting down with James Maunsell current Chairman Of the Community Council, Finbarr Motherway, Brinsley Mc Donnell and Helen Kennedy who are just some of the people involved with the Community Council. Others familiar to me are of course Anne O Neill Sean Murphy, Patricia Kirby and Simon Cody.
It is interesting to note that like many other Community Councils the boundaries are defined by the Parish hence the name Killeagh/ Inch Community Council.  The neighbouring Community Council in Ballymacoda and Ladysbridge operates in a similar way as do others around the county. As with all Muintir na Tire Community Councils the main aim of Killeagh Inch Community Council is about the involvement of all the people in the promotion of the welfare of the community.
I was keen to find out what the role of the community council was in bringing people together to affect change and how they went about their business.
The  thirty strong Community Council is the first port of call when a issue arises for the community. If an idea is workable then the Community Council will take it on as a project or support a local group in developing the project. Brinsley Mc Donnell told me that 'KilleaghInch 2020 came into being after a public forum in 2015 that was hosted by the KilleaghInch Community Council which, discussed the benefits of a greenway on the old railway line between Midleton and Youghal. It was decided to form a sub-committee to try and make this a reality but also to raise the profile of the scenic MountUniacke/Inch side of the parish and promote tourism where possible. A communication line was opened between Cork County Council's greenways department and ourselves. The licence for the railway has been handed over to Cork County Council and they are currently carrying out a feasibility study. The formation of a Tidy Towns committee was our next step.  We are in the process of commissioning three stones to bear the name places of both the villages of Inch and Mount Uniacke. The group has already undertaken a joint tree-planting project with Inch national school and Foroige and is busy with plans to further enhance the area. We hope to enter next year's anti-litter league. Refurbishment of the old water pump in Mount Uniacke is underway at the moment We are working closely with Inch hall committee and hope to build a peace garden on the grounds of the hall after their new extension is completed. Our parent body of the community council was involved in seeking funding for the new all weather pitch on the grounds of Inch school. Grant funding is also being sought from the sports council of Ireland for a Slí Na Slainte or running track around the all weather pitch.  It is the intention of this sub-committee to try to preserve and develop a bronze age ringfort and souterrain situated near Inch and known as Rath.  A rath or ringfort is a settlement that feature changes of level, which oblige the person entering to crawl while those further in can stand' An appendage on a survey carried out by UCC stated 'The view from this site is simply staggering, one can see as far east as Youghal and the sea, as far north as Clonmult and Garryduff, Well worth a visit'
It is worth mentioning that for Pride of Place 2016,  Cork County Council have nominated  Inch/Mount Uniacke, Killeagh/Inch 2020 Group. This competition is run in association with Co-Operation Ireland. The judging took place recently and the group made a big impression with their presentation. We wish them luck.
Many other ideas and groups emanated from the Community Council or operate with their support. There are Tidy Towns Groups in both villages and they are doing sterling work in improving the area.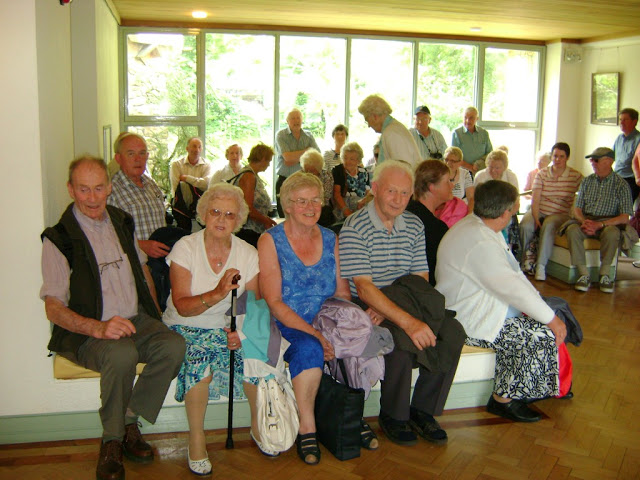 Members of Killeagh Inch Monday Club prepare for an outing
As a result of a survey done by the Killeagh/Inch Community Council a dozen years ago, the Monday Club was born. It recently celebrated its tenth birthday and now has contact with over a hundred persons. The Club, mainly for active retired persons, meets monthly for refreshments, guest speaker and interpersonal activity. Regular classes and travel, both day and overnight, are held throughout the year. Recent entertainment at the Club was provided by the local school choir and band, two local youths gave a slide show of their visit to Calcutta. Classes held recently dealt with stress management, using your smart phone and movement to music. Recent travel took members to a garden centre, the cinema,to health seminars organised by Muintir na Tire and a visit to Arus an Uachtarain. The club is managed by a sub-committee of the Killeagh/Inch Community Council, is supported by the Community Dept. of the HSE and by CETB and also acts as a conduit for the Rural Transport Scheme. There is no rigid membership – new members are always welcome.
The Community Council also represent the area in discussions with the local authority and other state bodies and they have been instrumental in the development of many services and facilities. They have been very active issues such as road improvements and safety and in the retention of services such as the local GP service and the local bus service. The Community Council has been calling for road improvements for many years and now over €1.2 million is to be spent upgrading the main street. It's understood the design involves the narrowing of the junction at the Thatch pub by creating build outs to taper the road from Youghal to Killeagh. The project was added to the County plan sent to the NRA on a yearly basis, but it had failed to attract funding until now.
It's believed the Killeagh design also caters for improved road markings and signage, a review of which currently being conducted by the NRA. The Playground at Glenbower Wood is one of the successful ventures. They are proud of the playground in Glenbower.  The playground is now in the care of Cork County Council, and was built by a sub Committee of the Community Council with assistance from SECAD.  Killeagh Inch Community Council also partnered with Inch National School to build an All Weather Pitch at the school. This pitch is now complete and is open  to the public. Booking info on 086 122 9889 or emailinchallweather@gmail.com. €40 per hour and reduced rate €30 for non-club students. The official opening was marked by a five a side tournament between the four schools for the Community Council Perpetual Cup. Fund raising is an important element in the development of services and facilities and in Killeagh and Inch the community is always ready to come on board to assist.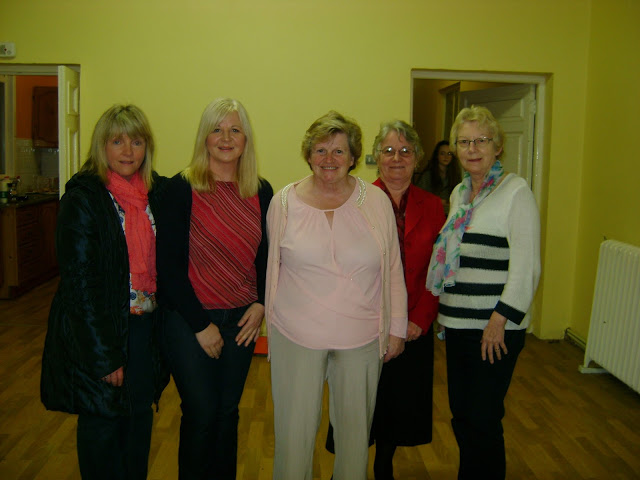 Members of the organising Committee of the Talent Show
There are many fine facilities in Killeagh and Inch. Both have Community Halls owned locally and managed by local committees. Inch Community Hall is currently being extended and having these community Centres allows so much to happen in the area.There are parent and toddler groups in both Killeagh and Inch Halls.  The Inch group meets on Tuesday mornings from 10 to 12, and the Killeagh group meets on Thursday mornings from 10 to 12. Each group is open to any parent of a child of pre-school age to come along and have a cup of tea while the child rests or plays with other children. There are also Foroige groups in both Killeagh and Inch catering for the needs of young people.
Sport plays a big part in life in this sprawling parish and the whole community turn out to support their sporting heroes. Hurling and football was played in the parish of Killeagh long before the foundation of the GAA in 1884. The first game that the great Jamesy Kelleher of Dungourney played was in 1892 in Dangan field in the parish of Killeagh. Killeagh GAA continues the great tradition.  A proud moment in the history of the club came in 1999 when Mark Landers captained Cork to win the Liam McCarthy Cup and had as his team mates Joe Deane and sub-keeper Bernard Rochford. The home-coming to Killeagh on the Tuesday night after the win, when up to 10,000 crammed into the village will never be forgotten by anyone privileged to have been there.  The ladies also have brought great pride to the community. In 2013 Inch Rovers had another fantastic year , the highlights included the club having five girls , Captain Annmarie Walsh , Annie Walsh , Angela Walsh , Sarah Harrington,and Jess O Shea , on the Cork All Ireland winning Team , a great night at homecoming of Brendan Martin Cup was had in Inch with Annmarie and Panel and  mentors , a huge crowd turned out and all enjoyed refreshments. Mary O'Connor of Killeagh is one of the most decorated players in the history of the GAA , she played both Ladies' Gaelic football and camogie. As a footballer O Connor has played with her local clubs Donoughmore and Inch Rovers and was a member of the Cork senior inter-county team from 1994 until 2010. She has won Five All-Ireland titles. As a camogie player O'Connor played for her local club Killeagh and was a member of the Cork senior inter-county team since 1996. Since then she has won seven All-Ireland titles. Winner of All Ireland camogie medals in 1997  and All Star awards in 2005 and 2006. She holds 7 Senior All-Ireland and National League camogie medals as well as county, provincial and All Ireland Club medals with Granagh-Ballingarry whom she played with while studying and working in Limerick.
Both Killeagh GAA and Inch Rovers have very vibrant juvenile sections who are a major part of the community.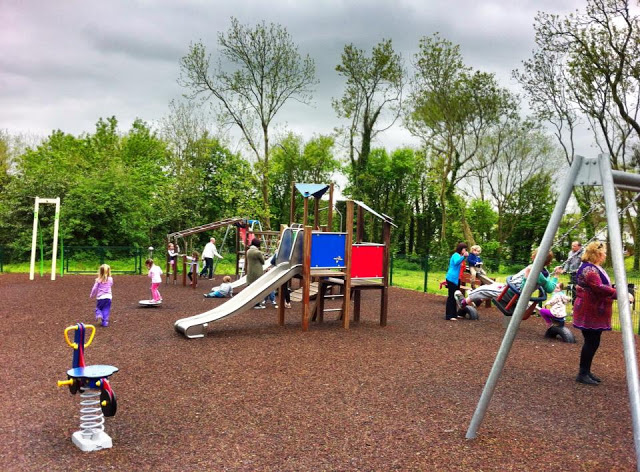 The Playground which is a great addition to Glenbower Wood
Many other sports are also organised including Soccer. Inch United are based in Mount Uniacke and have a juvenile and senior section. Many other sports are also available in the community including Killeagh Gun Club , Taekwondo in Killeagh and Inch, Inch Bowling Club, Angling Club, Point-to-Point in both Killeagh and Inch, Killeagh and District Gymkhana, Killeagh Harriers and Yoga Classes.
The community Council was also instrumental in the provision of defibrillators in the community. A defibrillator is a life-saving piece of equipment.  What it does is deliver a shock of electricity to the heart to restore normal rhythm. In order to use a defibrillator properly, one must be trained in CPR.  To date, they have over 80 people in the parish trained in CPR and defibrillator use and are always looking for more volunteers to train! Within the area of Killeagh / Inch there are a number of defibrillators.  They are located at the Credit Union building in Killeagh, on the wall of Power's in Mt. Uniake, at the Half-Way Bar and at Park Creamery.
Inch Drama Group having been up and running for many years now never fail to impress. they have sold out many a show  including their last production entitled 'Troubled Bachelors'. Not forgetting the renowned Killeagh Choir well known both nationally and internationally.
Killeagh also has a very strong Historical Committee who have brought out a book about the history of Killeagh parish. It is an excellent local history resource for anyone interested in Killeagh and the surrounding areas or tracing their family history. Its available in O'Neill's shop Killeagh and other outlets. They have also published a DVD on the history of the area.
Killeag Inch 'Person of the Month' which is kindly sponsored by Kennedy's Bar in Killeagh, is an award which is bestowed each month on a person from the Parish of Inch and Killeagh. A committee which includes locals George Fogarty, James Maunsell, Mary O'Connor and Father Tim Hazelwood must choose, each month, a person who has contributed and enhanced the life of the Parish in any positive way. Recipients have included Mary Pedder Daly, John Coleman, and (jointly) Tracey Kennedy and Angela Walsh.
It is clear to me that the Community Council plays a huge part in Community life in both Killeagh and Inch. It has been the catalyst for many developments in both villages and the community Council works quietly in the background but is also able to galvanise the community to make things happen. Well done to all.